Our research and experience lead us to believe that the San Juan Ridge Mine will contaminate our wells, take our water, and impact our environment and economy- please read Why we oppose the mine.
__________________________________________________________________________
NEW QUESTIONNAIRE:  People of the Ridge: We need your input. While we are exploring the possibility of acquiring and preserving the property as open space, we also need to consider other options. We have been asked by a representative of the mining corporation that owns the property what types of development would be acceptable by the community. Please fill out this brief online questionnaire (on the potential uses and development of the San Juan Ridge Mine lands.) Thank you!  Fill out questionnaire by clicking here.
County closes San Juan Ridge Mine permit application:  The Nevada County Planning Department has CLOSED the application for a use permit for the San Juan Ridge Mine. On March 14, 2016, Planning Department Director Brian Foss issued a letter to San Juan Mining Corporation CEO Timothy Callaway informing him of the closure, viewable here. Many thanks to our wonderful community for contributing so much to this effort for the past four years.
__________________________________________________________________________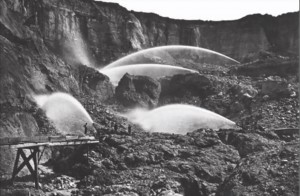 The film, Water for Gold, tells the story of the San Juan Ridge community's efforts to protect its water, resources and economy that are threatened by the proposed reopening of the San Juan Ridge Mine.
This powerful 35-minute documentary, by Tom and Debra Weistar is now available for viewing online.
_____________________________________________________________________________