Our research and experience lead us to believe that the San Juan Ridge Mine will contaminate our wells, take our water, and impact our environment and economy- please read Why we oppose the mine.
__________________________________________________________________________
BREAKING NEWS: County closes San Juan Ridge Mine permit application
The Nevada County Planning Department has CLOSED the application for a use permit for the San Juan Ridge Mine. On March 14, Planning Department Director Brian Foss issued a letter to San Juan Mining Corporation CEO Timothy Callaway informing him of the closure, viewable here. 
Many thanks to our wonderful community for contributing so much to this effort for the past four years. Come celebrate with us at the SJRTA Annual Membership Meeting! Sunday, April 10, 2pm, North Columbia Schoolhouse Cultural Center
__________________________________________________________________________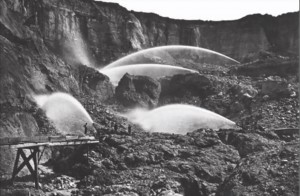 The film, Water for Gold, tells the story of the San Juan Ridge community's efforts to protect its water, resources and economy that are threatened by the proposed reopening of the San Juan Ridge Mine.
This powerful 35-minute documentary, by Tom and Debra Weistar is now available for viewing online.
_____________________________________________________________________________
MEMBERSHIP
Has your membership lapsed? Please join or renew your membership for 2016.
NEWS
Spring Newsletter 2016 – Vol 5, Issue 1
NSJ Mine Future in Limbo (The Mountain Messenger, 3/25/16)
Nevada County ends application process for reopening San Juan Ridge Gold Mine (The Union, 3/17/16)
Locals Celebrate as County Cancels Controversial Mine Plan (South Yuba River Citizens League, Keeping Current, 3/16/16)
Blue Lead Gold Mine gets go-ahead from Nevada County Board of Supervisors (The Union, 4/29/15). 
Op-Ed by Jenny Warden on the San Juan Ridge economy (The Union, 2/28/15). "There is a flourishing economy on the Ridge that offers permanent jobs for skilled people. And it is at great risk from the proposed San Juan Ridge gold mine's voracious water use."
San Juan Ridge Mine group says Nevada County's abandoned mines need rethinking:  On November 28, SJRTA Board President speaks with the Union about looking at positive examples of reuse of abandoned mine lands. Read the whole story here.  On December 6, local business owner writes a letter to the editor, "Science for the greater good", commenting on the November 28 article.  Read the letter here.
SJR Mine in the News: Community opposition to the mine has received national and international media attention. The New York Times published an article on the front page of August 23′s business section, and in this August 22 web version. And the UK-based New Internationalist Sept 2014 issue features several articles about "Gold Trouble", including "View from the ridge." To see a PDF of these, go here. To order a copy or subscribe, go to newint.org on the web.
Click for more news articles.
What's going on with the well monitoring program? Visit our resources page to learn more.
_____________________________________________________________________________
The primary purpose of the San Juan Ridge Taxpayers Association (SJRTA) is to promote the environmental, social and economic well-being of the rural San Juan Ridge community, in Nevada County, CA. The Association accomplishes its purpose by research, education, analysis, community outreach and advocacy. Our current focus is the proposed reopening of the San Juan Ridge Mine.
Formed in 1975, SJRTA membership includes residents and non-resident landowners of the San Juan Ridge and other concerned citizens.