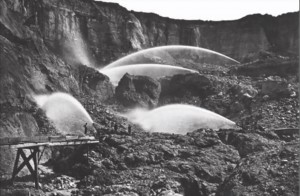 Our research and experience lead us to believe that the San Juan Ridge Mine will contaminate our wells, take our water, and impact our environment and economy– please read Why we oppose the mine.
---
[Note: The article below first appeared in the Summer 2017 issue of Tree Rings, the journal of the Yuba Watershed Institute. It explores the issues and complexities involved in strategizing a sustainable, non-mining future for the San Juan Ridge Mine property.]
JUJITSU: A NEW VISION FOR AN OLD MINE
By Debra Weistar
We live in a complicated landscape. The Sierra Nevada in general, and the San Juan Ridge in particular is at once ravaged, and breathtakingly beautiful. We live next to abandoned gold mines that conceal a toxic legacy we are only just beginning to uncover, within an interconnected river system that carries life-giving waters from the mountains to the sea. Destruction and creation, side by side…read more
---
DETAILED DISCUSSION OF QUESTIONNAIRE COMMENTS: The Alternative Uses Survey: In your words. Read here.
---
COUNTY CLOSES SAN JUAN RIDGE MINE PERMIT APPLICATION:  The Nevada County Planning Department has CLOSED the application for a use permit for the San Juan Ridge Mine. On March 14, 2016, Planning Department Director Brian Foss issued a letter to San Juan Mining Corporation CEO Timothy Callaway informing him of the closure, viewable here. Many thanks to our wonderful community for contributing so much to this effort for the past four years.
---
The film, Water for Gold, tells the story of the San Juan Ridge community's efforts to protect its water, resources and economy that are threatened by the proposed reopening of the San Juan Ridge Mine. This powerful 35-minute documentary, by Tom and Debra Weistar is now available for viewing online.